Certified teacher helping parents and educators be ready for whatever the day may bring through educational resources, online tutoring,
online courses, and joy!
What kind of educational resources are you looking for?

Let's spend 2 minutes together! Weekly blog posts, sage advice, and joy in the journey.
Want to spend more than 2 minutes together? Jennifer is available for speaking engagements at book clubs, professional developments, business lunches, podcast interviews, and church events. Contact her at hello@tailorjoy.com
What clients are saying...
Teacher Testimonial
"Without this Business Basics course, it would have taken me many, many hours just to think about all of the components to starting a business, much less to complete them! This course was hands-on, practical, and offers all the tools you need to start your own tutoring or coaching business. All of the material included in the course, from videos to checklists, will aid you in the process of starting your own small business. Jennifer has spent lots of time and energy learning all that goes into starting a tutoring business and has compiled all of that information in an organized, easy-to-follow 12-module course. I would recommend this course to anyone who has thought about the possibility of tutoring or coaching, whether you just want to explore the idea, or you are ready to start your business."
Ashley
teacher and mom
Business Possibilities
"When my family suggested I open my own business tutoring students I thought they were crazy. I didn't know the first thing about starting a business let alone marketing it. However, as I completed each of the Business Basics step-by-step modules the process seemed straightforward as each topic built on the previous one. Every question I had was answered before I could even ask it. It was obvious Jennifer brings years of experience to this topic and she opened up an opportunity for me that I thought would never be possible. By the end of the course, I felt I had all the tools I needed to start and run a successful business. If I can do this then anyone can!"
Julie
homeschool mom of 8
Confidence Builder
"Jennifer's Business Basics Course was the exact tool I needed to help me finally launch my health coach business. For several years I was in the contemplation stage of wanting to start this coaching business and I was overwhelmed by the myriad of tasks needed to begin. Jennifer met with me regularly to give me the confidence and tools necessary to accomplish one task at a time. This course helped me organize my time and resources. As I accomplished one task at a time I gained the confidence needed to finally open my health coach business! This course is not just for those considering a tutoring business but covers pertinent information and skills needed for launching a business of any type. I highly recommend Business Basics to anyone who wants to start a business and is struggling with where to begin."
Kimmie
Health Coach
Structure and Feedback
"My son is very bright, but struggles with language arts. Reading has never been his favorite thing to do. Tutoring with Jennifer has changed our life. No more tears, fighting over homework, struggling to get good grades. My son has the tools now to work hard, and see results.  I was surprised how much he truly values the structure and feedback tutoring provides. He loves his time with Jennifer."
Aimee
Mom of 8th Grade Client
Navigating Remote Learning
"Our daughter has a disability and was struggling with school in general. In the years that we have worked with Jennifer we have seen our daughter grow and develop as a student. She has become much more organized and diligent in her studies. With the change to virtual school, Jennifer was able to help her navigate and adjust to the dramatic change and ensure she was learning the material in a remote environment."
Jennifer
Mom of 9th Grade Client
Adapts Learning Style
"Jennifer has been tutoring our son over the past few years and she has done an amazing job at guiding him through the challenges of assignments for numerous subjects. Jennifer can very quickly access the learning style of the student and adapt her tutoring to their needs. Jennifer is also a great communicator."
Susan
Mom of College Student Recovering from a Stroke
Individualized Learning
"My son was able to meet the standards, but we knew there would be challenges in the future if we didn't establish a firm foundation. I was surprised when my son did not fight me with going to tutoring. He actually got help with his homework and learned so much while he was there while being challenged with fun games and incentives. Jennifer individualizes each student's learning plan while making it fun for the student and very worthwhile for the parent."
Shelby
Mom of Former Client
Increased Confidence
"My son began tutoring with Mrs. Donaldson for help with the transition into middle school along with organization assistance. After just a few weeks we saw a huge difference in his organizational skills and increased confidence. He VERY MUCH enjoyed and looked forward to tutoring two times per week. There is no doubt my son's successful middle school years were attributed to this. She very much got to know him as a 'person'–she played off his strengths and helped him with his weaknesses."
Kimberly
Mom of Former Client
Educational Navigation
"Life before tutoring was hectic. Getting my son to concentrate and do homework was like pulling teeth. Now my son loves working with Ms. Jen. She has the perfect touch when it comes to getting him to focus on larger projects and she knows when he's reached his limit and let's him choose an educational game to play. It's no surprise that Ms. Jen, outside of tutoring, also helps me navigate the educational world. She is always willing to lend a voice to some of my concerns with school staff."
Kelly
Mom of a Middle School Client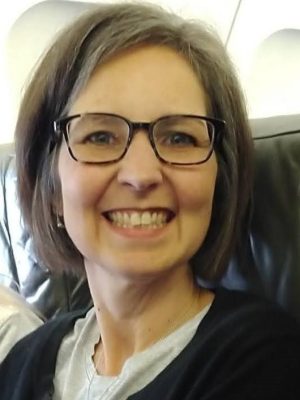 Teacher. Tutor. Traveler. Technique Trainer. Transfuser of Truth. Tailor of Joy.
Jennifer Donaldson often opens her home to friends and strangers for dinner, coffeehouse, hospice, lessons, or lodging. Jennifer hopes her life and blog are a window for seeing the joy that comes from loving God and loving people. Her creative ideas are a little outside the box, but practical and wise. (Did you notice that her logo is also a little outside the box?!) She aspires to be a digital nomad, collecting friends, stories, and sim cards as souvenirs. 
As a certified teacher, Jennifer currently can be found tutoring virtually from her home in Apex, North Carolina and creating new educational tools, organizational systems, and courses while caregiving for her mom who lives with Jennifer and her husband, John. Working online also allows for quick trips to visit her grown-up kids and grandchildren who live out of town. 
Want more tips and tools?
Sign up for my short weekly email "2 Minutes Together."